DO YOU KNOW HOW MANY SELF DEFENSE RANGES THERE ARE? MOST ARTS, SYSTEMS AND STYLES ONLY PREPARE YOU FOR ONE OR TWO…
HERE IS MY SECRET PROGRAM WHICH WILL PREPARE YOU FOR ALL OF THEM!
Hey, it's Matt Numrich here again.
I want to congratulate you for claiming your access to the "Insta-D-Fense" DVD.
You made a really smart decision, and here's why…
You ordered "Insta-D-Fense" because you want to defend yourself and loved ones, and that's exactly what it's going to do for you.
This DVD you just bought access to is the entire framework I personally use to defend myself and loved ones… in addition what I've also trained thousands of other people just like you to do.
But let me ask you a question...
How would you like to take your Personal Protection to the next level?
The great news is, "Insta-D-Fense" is kinda like me handing you the keys to a brand new private jet. Now that you have access to the Personal Protection DVD, you now have the keys to the jet. And what I want to offer you next is basically the entire training on how to actually fly the jet and maximize your results.
It's called the COMPLETE STREET FIGHTER.
This 5 DVD Street Fighting program is going to teach you my exact frameworks to be a skilled street fighter in all 5 areas of self defense on a really deep, detailed, granular level.
And we're only making it available to you right now because you proved you're an action taker when you took advantage of the "Insta-D-Fense" DVD offer.
The COMPLETE STREET FIGHTER explains the entire Street Fighting Self Defense framework using in-depth videos, and more, in so much detail it's literally like me doing it with you as you watch me over my shoulder.
In fact, the training in this 6 Street Fighting DVDs is so detailed you could even hand it off to a member of your family, friend or some else you care about.
I don't have time to go over everything inside of the COMPLETE STREET FIGHTER because we could be here for hours.
But I will tell you, other than hiring me to do it for you, watching over my shoulder in this 6 Street Fighting DVDs is your FASTEST, easiest, most direct path to be a skilled street fighter in all 5 areas of self defense in 30 Days or LESS!
If you ultimately want to be a person who can defend themselves in all areas of self defense, this is the in-depth training and tools you NEED!
Just imagine what your life will be like when you have the ability to be a trained street fighter in EVERY area of self defense!
How much faster could you reach your Self Defense goals?
How much better would your life be?
So click the button below right now to add the COMPLETE STREET FIGHTER to your order – for an insanely low price.
If you act now, I'll even throw in these EXTRA BONUSES!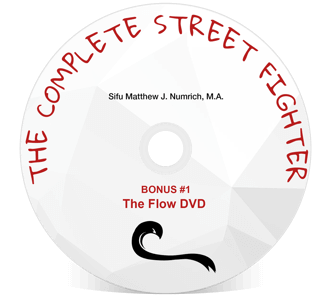 BONUS #1: The Flow DVD ($99 Value)
This DVD makes it easy to "flow" from fighting one range to another fighting range, adapt to any street fight which happens to mutate into multiple combat ranges and scenarios, and control your fear by adapting mentally and emotionally to any kind of violent attack.
BONUS #2: The Complete Street Fighter Manual ($199 Value)
This Manual makes it easy to dive deeper into real street fighting strategies and tactics, train more realistically, and develop your mental and emotional muscle which will skyrocket your confidence .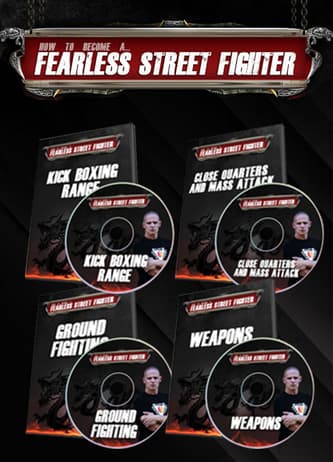 BONUS #3: 14 Day Trial of our Fearless Street Fighter Online Training ($47 Value)
This Online Training Course makes it easy to take your training to the next level, practice your moves step by step, with even more detail, tips, tricks and fighting secrets, and train HIGH LEVEL self defense without ever having to join a martial arts school or dojo.
BONUS #4: 60 Minute Critique Video ($400 Value)
This 60 Minute Critique Video makes it easy to have me as your self defense instructor by making sure you are doing the self defense techniques, concepts and drills right the first time, and taking the guess work out of your technique and training.
What does all of this usually cost?
The COMPLETE STREET FIGHTER has a total value of $1,240.00
In fact, the COMPLETE STREET FIGHTER is available on my regular website for $499.
But right now, you have this ONE CHANCE to get it for only
I know it seems crazy, but by purchasing the Insta-D-Fense program, I know you are serious about learning how to defend yourself anytime – anywhere!
This one-time offer is only available right here, right now. When you leave this page, it's gone forever.
Don't miss your chance to watch over my shoulder, step by step, so you can be a skilled street fighter in all 5 areas of self defense now faster and easier than ever.
Go ahead, grab your access to COMPLETE STREET FIGHTER and I'll see you on the inside!